Summer has come! This is not a joke especially for me. This mustn't be a joke for you too. People who know me well, know that I pay attention to my skincare. Being involved in the cosmetic sector a few years ago I started a long term research on what is best for my skin. I tried a lot of cosmetics products – brand name and no-name. This year I tried and I'm obsessed with Opuntia Luxury Oils. I met them while I was in Manhattan. My bestie informed me and I tried them. I didn't even know that these products were Greek.
I know that the vast majority of you pay attention to your skincare. Let's find out more about these products. Opuntia Luxury Oils embodies the raw beauty of the Mediterranean, where refined luxury meets wild nature, evocative of Greek summer splendor. Born under the gaze of the Acropolis, Opuntia Luxury Oils, an organic, sustainable, botanical oil-based skincare line that launched in 2019, caters to culturally savvy, wellness-minded, and eco-conscious men and women all over the world.
The name Opuntia (pron. Opúntia or Opuntía) means Prickly Pear cactus in Latin and is derived from the region Opuntia Locris in Greece. Each seed of its fruit contains merely 5% of oil, making it one of the world's most precious beauty oils and is one of the most absorbable botanical oils on the market. The special blends in Opuntia Luxury Oils are infused with delicate bouquets of Geranium Bourbon, Neroli, Spanish Sage, and Wild Carrot, among others, bursting with bio-active aromas designed to promote health and healing of the skin, body, and mind.
Opuntia transforms your skin and mood
"Opuntia transforms your skin and mood" says co-founder Kassandra Lefakinis. "These oils are as much about the beauty of healthy skin as they are about improving one's psychological well-being through aroma. We aim to unite unexpected elements from nature not commonly used in other products on the market; that way we are offering a more dynamic and surprising aromatic journey with all its unique benefits."
Opuntia Luxury Oils transformed my skin by refining and tightening pores, reducing inflammation, lightening dark spots, brightening skin tone, and restoring skin's elasticity. The exquisite blends are rich in antioxidants, Omega-3, Omega-9, vitamin E and A, and natural UV protection agents, making them extremely skin nourishing. The satiny texture is easily absorbed, penetrating the skin quickly without leaving a greasy residue.
With a strong effort towards environmental sustainability, Opuntia's high-design glass bottle and tin box packaging not only stands out for its simple elegant design, but it's also reusable and recyclable; no plastic or single-use packaging to dispose of. Opuntia also gives back to the environment. For each product sold, a tree is planted through a partnership with the NGO One Tree Planted, helping heal the earth through reforestation.
Place your order and try them!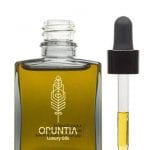 REVIVAL Day Face Oil 30ml – This multitasking product is rich, smooth, and light-textured perfect for the day. The exotic all-natural blend dynamically hydrates, acts as a powerful antioxidant, and carries natural SPF. It promotes a toned complexion, reducing redness and pigmentation while aiding cellular turnover, circulation, and collagen production. Awaken to a perfectly balanced infusion of mood-improving, uplifting aromas and achieve a more radiant complexion.
Organically produced Ingredients: Prickly Pear Seed oil, Red Raspberry seed oil, Rice Bran Oil, Geranium Bourbon, Neroli, Palmarosa.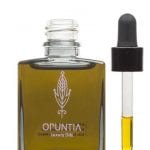 REVIVAL Night Face Oil 30ml – This reparative all-natural blend heals the skin overnight with a medley of fruits, vegetables, roots and herbs, fighting microbes, inflammation and free radicals, the main cause of skin aging. The oil is easily absorbed by the skin improving elasticity and suppleness. The herbal aromatic infusion relieves mental and emotional fatigue, opening the gateway for restorative sleep.
Organically produced Ingredients: Prickly Pear Seed oil, Red Raspberry seed oil, Rice Bran Oil, Avocado, Carrot, Sunflower, Spanish Sage, Lavender Spike, Angelica Root, Wild Carrot.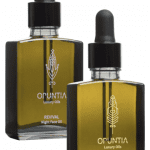 REVIVAL Set (2 x 30ml) – Revives the complexion and spirit around the clock. Hydrates protects and tones the skin during the day; restores heals and regenerates overnight. Uplifts the mood in the morning and calms the mind and spirit at night.
Opuntia Luxury Oils are available for purchase internationally online at www.opuntialuxuryoils.com with complimentary shipping to the US and EU countries. For additional information email: info@opuntialuxuryoils.com. The product ships to the US in 2 business days.
Follow them on Instagram or Facebook: @opuntialuxuryoils and Twitter @OpuntiaLO.