SENSAI is…
Skin enriched with the moisture of Silk
Inspired by the quest for infinite beauty, SENSAI combines advanced skincare technology with the supreme power of its precious signature ingredient, Koishimaru Silk. This extraordinary fusion of science and nature works in harmony with the body, creating flawlessly silky skin that enhances every woman's unique beauty.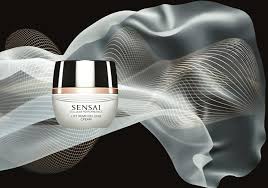 Koishimaru Silk
The silk with the power of infinite moisture.
SENSAI's promise of silky skin is made possible byKoishimaru Silk, an exceptional fibre once reserved for the imperial family. By stimulating the production of hyaluronic acid, it bathes skin cells in an endless ocean of moisture – a life-giving environment in which skin is nourished, moisturised and made beautiful.
SENSAI
Saho
A skincare ceremony for flawlessly silky skin.
To achieve the ultimate goal of exceptional skin, SENSAI advocates a unique skincare ritual calledSaho, a three-step process designed to be practised the same way, every day, for immaculate results. We believe that by repeating this calming and thoughtful method, you can discover the optimum way to achieve silky skin, helping you on the way to a life of infinite beauty.
WHAT IS SAHO?
SENSAI Skincare Saho is a skincare ritual inspired by the Saho code of etiquette for the Japanese tea ceremony. It helps to achieve flawless silky skin by Double Cleansing, Double Moisturising and Double Application.
SENSAI proposes the importance of the right things with the right way in the right order.

Available at notosgalleries
Athens:  Stadiou & Aiolou Str., 10551 Athens, Tel : +30 210 3245811
Piraeus: 35, Ir. Polutexneiou & Tsamadou, 18535 Piraeus, Tel : +30 210 4119811
Thessaloniki: 24, Tsimiski & 31, Mitropoleos Str, 54624 Thessaloniki, Tel : +30 2310 366600
Kalamata: Central Square of Kalamata, 24100 Kalamata, Tel : +30 27210 90077